September 7, 2016 5:27 pm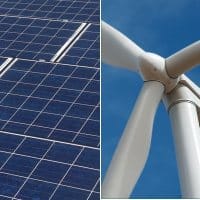 The Canberra Liberals have pledged to continue with current legislated targets of 100 percent renewable energy for the ACT by 2020 if elected, and achieving zero net emissions by 2050.
The commitment was announced by Shadow Minister for Environment Nicole Lawder on Tuesday.
"The Canberra Liberals are committed to reducing greenhouse gas emissions and encouraging the use and advancement of renewable energy. It's important to lead the way here in the ACT," Ms Lawder said.
"We recognise that renewable energy is an important part of our transition to a low emissions economy and the Canberra Liberals are committed to protecting our environment for future generations. Continuing with these targets means we'll make further progress towards a cleaner and more sustainable environment in the future."
It's a significant turnaround since 2014, when Ms. Lawder complained of the "ugly impact" of Labor's renewable energy efforts and in 2015, when the Shadow Minister expressed concerns about the costs involved.
Earlier this year, Liberal Leader Jeremy Hanson reportedly viewed Labor's 100 per cent renewable energy target as being too much, too fast. The Territory had originally intended on reaching 100% renewable energy by 2025, but brought forward the target to 2020 in May this year.
But rather than staying stubborn in its views, it's encouraging to see the Canberra Liberals reconsider its position and evolve policies as the many benefits of renewable energy becoming clearer with time and the costs involved continue to reduce.
The change in stance was applauded by various groups – 350.org commented the Canberra Liberals' approach was in "stark contrast" to that of the federal party.
In other recent related news, the ACT Government announced last Tuesday it had secured the final renewable energy needed to meet its 100% target by 2020; by way of the Crookwell 2 wind farm in New South Wales ($86.60/MWh)  and the third stage of the Hornsdale Wind Farm in South Australia ($73/MWh).
The arrangements are also bringing other benefits.
"Both projects are providing extensive investment packages for the ACT economy, with over $180 million to fund research, innovation, jobs and education in the renewable energy sector here in Canberra," said ACT Minister for the Environment and Climate Change, Simon Corbell.
Source: Energy Matters